GRANTEE IMPACT STATEMENTS
Impact Statements from CAP Grant 2020 Applications
Adirondack Art Association (Essex NY)
Our project, Pots, Shots & Pigs proposes to offer three participatory art classes, all of which will bring people into Essex County for unique events.
Adirondack Park Institute (Newcomb)
The Artist in Residency Program, now in its 7th year, continues the revitalization of Anna and Archer Huntington's passion for science and the humanities and provides public programs highlighting the important intersection of these disciplines.
Appleby Foundation-Tahawus Center (Ausable Forks)
Our mission is to create, develop and present works and ideas that connect artists and audiences, children and adults, and to strengthen and enliven communities through diverse exposure, access to, quality training and participation in the arts.
Ballard Park (Westport)
For many summers, Thursday evenings have meant live music in the Pavilion at Ballard Park, Westport, NY. The sense of vitality and community that the concerts bring to Westport cannot be overstated. Few events are more unifying than music that all can enjoy. The sight of cars arriving from north and south and families walking toward the park, setting up blankets and settling in for an evening among friends is priceless.
Community String Orchestra of the Adirondacks (Keene Valley)
Fall session will meet at Keene Central School. In this session we will collaborate with Keene Central School Bands to present Blue Sky Electric Light Orchestra. Using Blue Sky as an inspiration, our fall repertoire will include music about the weather and focus on bow techniques inspired by early rock. We anticipate 25 string players of all ages to participate alongside the Keene Central School high school band of thirty students.
Craigardan, Inc. (Elizabethtown)
We are a non-profit educational organization that invents on the history of the Adirondack Mountains as a destination for artists, writers and philosophers for the 21st Century. We are a remote, retreat-like, and environmentally grounded organization that emphasizes place and place making to inspire individual and collective creativity.
Depot Theatre, Inc. (Westport)
The Depot serves as a dynamic cultural hub by bringing diverse stories and storytellers to our rural region, employing artists, generating economic activity and caretaking the iconic depot building.
Elizabethtown Library (Elizabethtown)
Our historic walking tours are a collaboration with several other entities resulting in enriching, educational and fun programs.
Essex County Historical Society/Adirondack History Museum (Elizabethtown)
The project is an art exhibition: "A Woman's View: Recognizing Artists in the Adirondacks" highlighting 5 Adirondack women artists. Patrons will learn about, experience and enjoy the art of these five diverse Adirondack women.
Essex Theatre Company (Essex)
We deliver high-quality amateur theater to Essex and surrounding towns by presenting plays, musicals, and original works.
Fort Ticonderoga Association (Ticonderoga)
Fort Ticonderoga is supporting the expansion of digital outreach programs, that will engage a broad, multigenerational audience across the nation and globally. Through the Center for Digital History, Fort Ticonderoga will bring the award-winning educational programs into homes and classrooms.
John Brown Lives! (Westport)
Blues at Timbuctoo (BT2) is not an ordinary day of music. The concert marries blues music with a conversation about racial justice. BT2 is lauded for the soulful power, artistic virtuosity and cultural breadth and diversity of the performers who all are chosen for their artistry and for their commitment to the spirit and purpose of the day.
Lake Placid Center for the Arts (LPCA) (Lake Placid)
We are a year-round performing and visual arts facility, consistently presenting arts of the highest caliber in music, dance and theater performances, film exhibitions and visual arts presentations. The LPCA works to fulfill its mission to present and foster arts programs that inspire, enrich educate and entertain people of all ages.
Lake Placid-North Elba Historical Society (Lake Placid)
This year the Historical Society is curating a new exhibit at the History Museum, "Sign/Design". This inclusive and educational event will guide participants through the gallery discussing the craft of sign painting and analyzing Lake Placid signage.
Lake Placid Sinfonietta (Lake Placid)
As a successful, community supported non-profit since 1981, the Lake Placid Sinfonietta brings professional musicians from around the world to the Adirondacks and provides an opportunity in our area to the experience of classical music which is not otherwise available.
Lakeside School (Essex)
Lakeside School strives to provide Adirondack families with high quality and enriching year-round educational experiences. Teachers will work with students to create puppets and the sets as well as the performances. This allows students and visitors to experience the simple magic of storytelling.
Makers Guild, Inc. (Willsboro)
The Meet the Makers lecture series features the unique talents and perspectives of 6 Essex County artists. Artists will explore their inspiration and share how they use their artistic process to express their vision in 6 sessions between 2 different venues.
Moriah Chamber of Commerce (Port Henry)
Our project provides live music for our 131st Annual Labor Day Celebration bringing entertainment to an audience of approximately 3000 residents, campers and visitors.
North Country Underground Railroad Historical Association (NCUGRHA) (Ausable Chasm)
We annually celebrate the life of Solomon Northup, an American abolitionist and author of Twelve Years a Slave. Our long-term vision is to inspire all people to rise above their differences and celebrate the importance of freedom to the survival of the human spirit.
Penfield Homestead Museum (Crown Point)
Our mission is "Crown Point-People and History". The educational programs include historic walking tours of the manufacturing complex of Crown Point Iron Company and Railroad, interactive tours of the Homestead and agricultural buildings as well as public access to an extensive research and archive center.
Piano by Nature (PBN) (Westport)
PBN is a unique year-round piano-based concert series, bringing thought-provoking concerts and diverse ensembles performing unusual and less-heard repertoire from local, regional, national and international artists. PBN artists provide motivational and creative educational presentations at many local schools along with captivating conversations at post-concert receptions.
Seagle Music Colony (SMC) (Schroon Lake)
SMC's mission is to identify, train and develop gifted singers and to present quality opera and musical theater concerts. Included in our programming are a touring production as well as in-school children's opera performances. Our emerging artist training program is the oldest and one of the most distinguished programs in the Unites States.
Schroon Lake Chamber of Commerce (Schroon Lake)
Integrated into the chamber's primary function of promoting Schroon Lake as a primary tourist destination, the summer square dances presented since 1930 have delivered exercise, entertainment, music and joy to residents and visitors. Every Wednesday in July and August the square dance is a mainstay for the over 200 in attendance.
Ticonderoga Festival Guild (Ticonderoga)
The Summer in the Park Concerts represents our mission to promote, develop, sustain, deliver and advance the performing arts in Ticonderoga and its surrounding areas through music, dance, theater and artistic performance for both adults and children.
Ticonderoga Heritage Museum (Ticonderoga)
Our Children's Summer Workshop Series speaks directly to our mission to excite children and spark imagination for discovery, learning and creativity.
Ticonderoga Historical Society (THS) Ticonderoga
With a primary focus on the historical, educational, scientific and social aspects of the Adirondack Mountains, Lake Champlain and Lake George regions, we showcase the important contributions of our region to the history of New York and the United States while preserving and promoting our unique cultural history. We preserve and interpret history through collections, exhibits, programs and community outreach.
Town of Wilmington (Wilmington)
For over 24 years, the Town has organized the Wilmington Summer Beach concerts to foster a free public gathering where families can come together to enjoy events without charge.
Upper Jay Art Center (Upper Jay)
The mission of the Upper Jay Art Center is to improve the quality of life in Upper Jay and the surrounding communities through artistic expression. It has become a vital community gathering space in the Ausable River Valley, bringing together people of all ages, incomes and backgrounds for the enjoyment of live theater and music, along with poetry readings, storytelling sessions, dance, performance art and occasional exhibitions of visual art.
Westport Heritage House (Westport)
Our mission is to link Westport to the history, arts and culture of the region. We are a seasonal visitor center, offer several community programs, serve as a venue for cultural arts shows and house the winter farmers market, enhancing the lives of the many participants
Whallonsburg Grange Hall (Essex)
The Grange has become known for the quality and breadth of our musical offerings and our Fall Music Series represents this well. We feature top-quality regional, national and international music and theater, films, lectures and programs year-round, providing unique and enriching educational and cultural opportunities.
Wilmington Historical Society (Wilmington)
Our Summer Speaker Series presentations illustrate the power of combining historical perspectives to engage new audiences and bring fresh insights to our stories and historical heritage
Impact Statemets from 2019
The Lake Placid Sinfonietta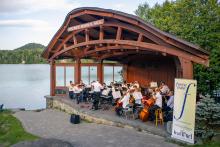 "The Lake Placid Sinfonietta is committed to providing some concerts each year without an admission charge, enabling everyone to experience the music. In 2019 "free" concerts include a morning concert for children, a community concert in Saranac Lake and the six Park Concerts in downtown Lake Placid which are supported by this year's CAP funding. Having CAP funding for these concerts strengthens the resolve of the orchestra to continue this well-appreciated service to the community."
The Depot Theatre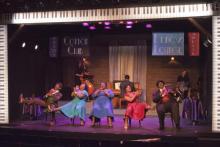 "The Essex County Arts Council Cultural Assistance Program 2019 funding supports the Depot Theatre's work of producing its three professional mainstage productions in Westport: The World Goes 'Round, An Act of God, and Forever Plaid; four midweek Station Spotlight shows including 2 Broadway cabarets and Boquet River Theatre Festival summer youth program at the Whallonsburg Grange. ECAC CAP funding is critical to the Depot's ability to entertain, enrich and educate bringing a diversity of stories and storytellers through professional theatrical arts to Essex County's Champlain Valley."
The Lake Placid Center for the Arts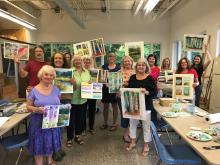 "The Lake Placid Center for the Arts strives to bring the best national and international arts programming to the North Country. We maintain low ticket prices so that we will remain accessible to our rural community, and the ECAC grant helps us bring the best quality programs to the Adirondacks. We reach all ages, from children in our free after-school workshops to our older audience that enjoys the Met Live in HD, and everyone in between."